Finnish eighth graders competed in rescue and fire safety skills
Eighth graders competed for the annual NouHätä! championship in rescue and fire safety skills. A team of three from Koulunmäki comprehensive school in Äänekoski took the first place in the competition. This year, the entire competition was implemented digitally with almost 9000 participants – more than in any previous year. A total of 47,000 secondary school students took part in the NouHätä! campaign. Organised by the Finnish National Rescue Association SPEK, the campaign has reached more than 850,000 students in 26 years.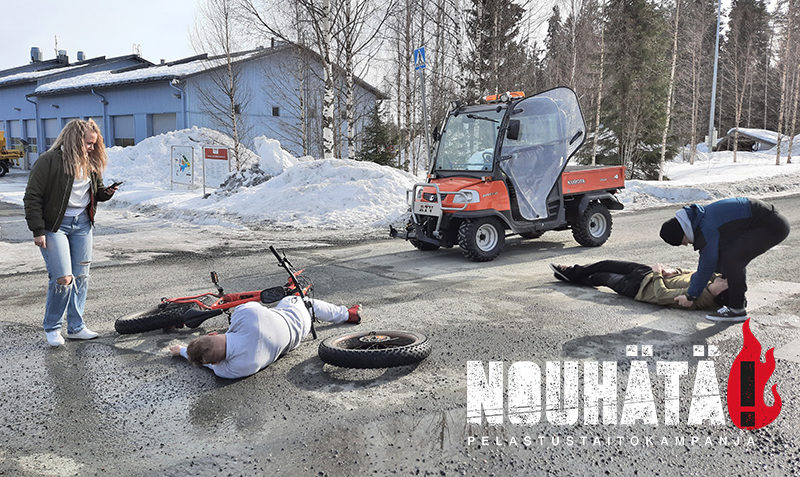 Just like last year, the final round of the competition was held digitally. The finalists got to prevent accidents, extinguish a person on fire, rescue a person who had fallen through ice and solve other tricky situations.
In this year's competition, the best rescue skills were demonstrated by the Koulunmäki comprehensive school's team from Äänekoski. Nina Myllyvirta, Ella Vekkeli and Kaisa Kotilainen were the skilful contestants of the winning team. Napapiiri school's team from Rovaniemi placed second and Uimaharju school's team from Joensuu took the third place. The winners received a challenge cup, the golden helmet, and a EUR 2,000 gift check.
Online environment inspires to compete
This year, a total of 47,000 students from 547 schools participated in the NouHätä! campaign. Nearly 9000 eighth graders participated in the competition in teams of three, which is by far the highest number of contestants in the campaign's 26-year history. 22 teams qualified for the final, the best from the domain of each rescue department.
– The number of participants in the competition exceeded our expectations for the second year in a row. Clearly, the digital environment inspires eighth-graders to compete in safety skills. The competition is a great practical learning event that complements the theoretical classes, says Risto Vesalainen, SPEK's NouHätä! ambassador.
– NouHätä! training is provided by rescue departments and school teachers. They have access to free training materials. This year the training has been carried out for the most part remotely, Vesalainen says.
NouHätä! has established itself as one of the biggest campaigns implemented for students of a certain age. The campaign has been designed to reflect the themes related to the core curriculum of basic education that are not directly included in the content or materials of any school subject.
The NouHätä! campaign is organised by fire and rescue departments and the Finnish National Rescue Association SPEK in cooperation with the Ministry of the Interior, the Finnish National Agency for Education, Emergency Services Academy Finland, fire and rescue federations and the Finnish Association of Fire Officers. The campaign if financed by the Fire Protection Fund.